MS Access Error 2239: The Database Needs to be Repaired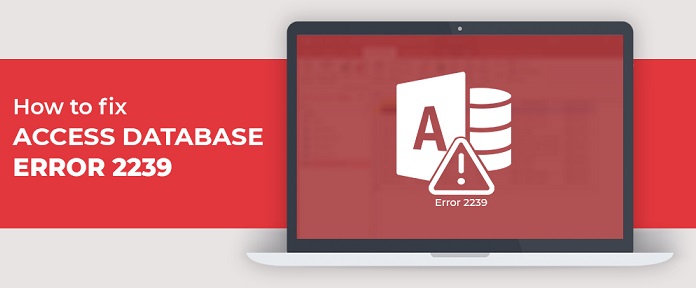 Microsoft Access one of the easiest options for creating a database file but sometimes faces sort of problems & error which should need to be corrected to protect your file from corruption. Here in this blog, we are going through the symptoms, causes & the way to fix MS Access Error 2239.
This error occurs when the jet database engine is not able to identify its schema & definition due to some issues in data or definition. It seems to results in problems like Microsoft Access fails to run or crashed. It is not mandatory that the code is corrupted but because of the file which is not running at runtime. This Error shows a message on the screen as
Reasons for The Database Needs to be Repaired Error
Software Design, Code Designing & many other reasons can cause MS Access error 2239. But, a high classed program can also cause an error. If an error is not resolved at the time of design or testing it may cause runtime errors. There are numerous reasons for runtime errors. Some of them are listed below:
Database Writing Interruption: Whenever the database is abruptly shut down while someone writing on it, the jet database thinks that the database file is corrupt. Then the jet engine places a flag at the beginning of write operation & replaces with another when the process is complete.
After this when you trying to open the Access file again, the jet database determines the flag & report as the database is corrupted.
Access LDB FIle: In MS Access a lock file or LDB file is automatically created when the Access Database is opened by any user. Also, it is automatically deleted once the last user is gone from the shared database. But some exceptions result may prevent the file from being deleted.
LDB file is used to store the information that is logged on or at what time, so the file may create some issues when not deleted at a time. It is because the LDB file is used to prevent our .mdb file from renaming, opening or compaction while a user is logged in the file.
Multi-User Environment: Every change in the database is temporarily saved in the transaction log which is committed at the later stage. If the transaction log is not used, there be a lot of chances of errors when multiple users working on the same file. So, if the Jet Database is considered as not using the transaction log while read or write by multiple users can cause corruption in the database file
Network Problem: This is one of the common problems which can leads to corruption due to failure in Network or server connection.

Methods To Fix MS Access Error 2239: The Database Needs to be Repaired
Here are some manual methods to fix this problem without any extra effort. Below is given a list of a number of ways to rectify the Error:
Backup Recovery: If our database Needs to be Repaired, we can take the backup of the file from our backup if it is regularly updated, or we can access objects & tables from the backup file.
Delete LDB File: It is not good to delete the LDB file directly. So, we have to follow step by step procedure to delete the LDB file as shown below:

Use Compact & Repair: In-built tool by Microsoft used to deal with minor errors in the Database File. Here are the steps for using Compact & Repair Utility:

Firstly, close the database before using "Compact & Utility".
Open MS Access
Click on File tab & then Info
Click the Compact & Repair database button.

Import Objects from One to Another: A method of practicing to import objects from a corrupted database to the new one can also help to recover data.

Click the Access option under the External Data tab.
Browse or Enter the database you want to import.
Then, select import tables, queries, forms, reports, macros, and modules into the current database option & click OK.
From the import objects select the desired objects you want to import.
Click OK to initiate the import process.

Full-Time Solution for MS Access Error 2239

If the above manual solutions are not working for the Database Needs to be Repaired error then we have to go for a trusted solution. Access Database Recovery Tool is a stand-alone method to fix the error that arises in the MS Access Database. This software has multiple features & a user-friendly interface which makes it more reliable for the novice user to choose it as an option for data recovery.

Further, the software helps in

Repair corrupted, encrypted or damaged database files
Allow recovering deleted items i.e. tables, macros, forms, etc.
Supports all versions of MS Access
Compatible with other Error occurs in MS Access
Works with Windows 10. 8.1. 8, and all below editions.

Final Words

Here, we discussed one of the major errors arises in the Access database i.e. MS Access Error 2239. We also provide a manual solution to fix this error. Instead of this, we also lighted up an automated tool which can easily rectify The Database Needs to be Repaired error.