MS Access Error 3011 - Jet Engine Could Not Find The Object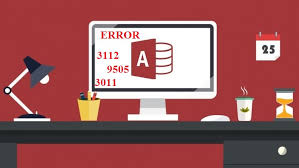 Microsoft provides a database management tool named MS Access which can define & manipulate databases without performing typical SQL coding. This quality makes it easy for a novice user to work on it. But everything either is a fresher or a big organization some bugs are always found. MS Access also contains a number of errors that result in fatal data loss or makes corrupted Access Database File. One of the major errors which generally arises is MS Access Error 3011. We are here discussing how to resolve Access database error 3011. Before going through this program let us first discuss the basics of this error.
What is Error 3011?
This is a sort of error that while corrupt shows a message on the screen: "The Microsoft Jet database engine could not find the object. Make sure the object exists and that you spell its name and path name correctly." This is because Jet Database Engine visualizes that DBF filename should be strictly in old DOS format. It means if the file name is more than 8 characters it throws an exception.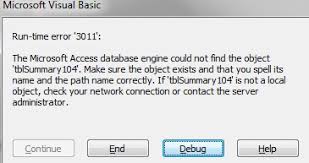 Fix MS Access Error 3011 - Jet Engine could not find the object
Whenever the Access database object, either a user or system object is damaged & cannot be recognized. This problem result is a corrupted Access Database File. Below are given some manual approaches to fix error 3011.
Method 1: Open in MS Access:
Firstly, open the website for the Access web database.
Select the Option button & click on Open In Access.
Click OK
The following errors arises in bottom
Do you want to open or save files from < sitename>< location name>.com." Tap the Open option.
A pop-up message with the following declaration has come to your screen: "Open an MS Access Web App (ACCDW) file will download information from the internet. The URL for the site associated with this file is https://< application site url>.
This will open your application in MS Access & now you can easily open up your tables, macros, etc.
Method 2: Delete ACCDB file & Open in Access
If the above method is not sufficient to provide the result for the Jet engine could not find the object MS Access error 3011 issue then you can go for this method where you just need to remove the accdb file from the local machine. After then creating a new .accdb file from Office 365 :
Record file Site Information:
Open MS Access & after then open Access web application.
Click on File option & click the "View & Edit Database" link.
On the General tab, you can easily found the location of the local database file.
Record location for .accdb file & close Access.
On the File menu, in Sync All section, click the link to the database on the web. Leave the site open or note the address at the time of creating a new accdb file.
Backup & Delete The Issue Creating Accdb File:
Search accdb file location in local machine & copy the file to any other place.
Now, delete the file from the local machine. Do not rename the file it should be removed from the machine.
Search for the site of the web database that you save in Step 4.
Click Option button then click on Open In Access Option.
A message appears at the bottom " Do you want to Open or Save < filename>.accdw from < sitename>.< locationName>.com.
Then, click on Open option.
Click on the OK option.
At the last tab click OK

Now you are able to see all your Access objects
Expert Solution to Fix MS Access Error 3011
Access Recovery Tool is the one-stop solution to fix the corrupted Access Database file. This utility can easily work for the Jet engine could not find the object error. This software is built to resolve the issues related to MS Access so it is good to every error that arises in Microsoft Access Database files. With the help of this software, you can easily retrieve your corrupted Access files quickly without performing extra efforts.
The main features of this utility are:
It can easily recover corrupted, damaged or encrypted Access Files.
Allow retrieving database deleted items like tables, macros, forms & reports
Supports all versions of MS Access
Capable of Export Database file with or without schema
It can also convert MDB & ACCDB file in CSV format
Steps to Repair Corrupted Access File via Recovery Tool
Install & Open the software to restore the corrupted file





Preview Access File Data by clicking on recovered Database Items





Select & Browse destination path to save data as MS Access Database or CSV





Select & Export data File with or without schema as per the need


Conclusion
Here, we discussed how to deal with the MS Access error 3011. Due to this error users are not able to access their database files. That is why we lighted up how to recover them manually then we also provide an automated solution for the same.